Guajillo is the second-most popular pepper in Mexico (after anchos) and it's easy to see why. Used commercially, guajillo is a workhorse of a pepper that adds heat and complexity to any meat, sauce or rub.
Guajillo is a word that means "little gourds", a name that comes from the tapered shape of the chile peppers. It is a maroon color, with a tough skin. Because of its tough skin, many people prefer to use guajillo powder to spice their dishes.
What does Guajillo Taste Like?
What makes guajillo so popular in Mexico?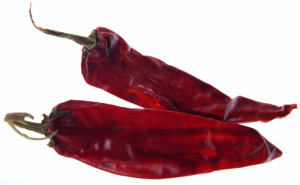 The dried pods of the guajillo pepper add both flavor and color to dishes. Guajillo is considered to part of the "Holy Trinity" of chiles used in making authentic mole sauces, along with ancho peppers and jalapeños.
Guajillo's flavor is deep and complex, offering both spice and sweetness. The heat is similar to that of the jalapeño, but guajillo peppers are much sweeter. With a smoky flavor and the tanginess of a cranberry, Guajillo peppers have a medium to mild heat, rating between 2,500-5,000 Scoville units.
What are Guajillo Peppers Used For?
Guajillo peppers are often dried and then ground into a paste and mixed with salt and other ingredients to produce a flavorful red sauce. Guajillo is a compliment to most meats, especially chicken, and are also used to add heat to mole sauces.
Guajillo Peppers at The Chile Guy
The Chile Guy offers powdered guajillo peppers that add flavor to your sauces, rubs and meats. Contact us to speak with our chile gurus and we'll help you understand how wholesale chile can reduce your costs in materials and labor in your commercial applications.