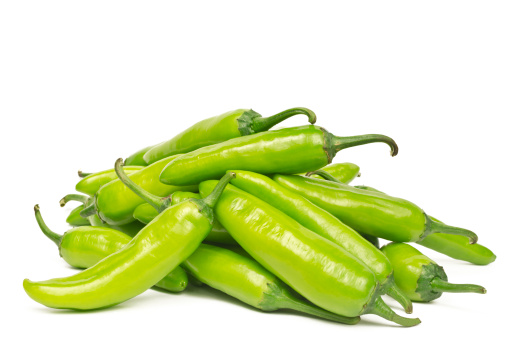 Always a regional favorite, the New Mexico green chile has proven to be more than just a locally-known cuisine. Recently, the New Mexico green chile was named as "America's Top Regional Food" by USA Today and 10Best.com. The New Mexico green chile, which is really a variety of the Anaheim chile, or if you are from New Mexico, the Anaheim is a variety of the New Mexico Chile.  It is known for its mild to medium heat and flavorful taste.
Roasting, Bagging and Freezing
New Mexico's autumn ritual of roasting and freezing green chile is a pleasant tradition for residents of the state. Vendors set up their roasting drums in vacant lots, parking lots, Farmers Markets, Super Markets and just about anywhere people congregate with New Mexico green chile on their minds. The aroma that comes from the roaster is almost as addictive and distinctive as the flavor of the peppers themselves.
The "Roasting, Bagging, Freezing" ritual is a tradition passed down through generations for the last several years in New Mexico. In New Mexico, freezing the roasted peppers for use during the rest of the year guaranteed a supply of the hot spicy capsicum when it was needed most. Particularly in the dead of winter and around the Christmas and New Year's holidays.
(Note:  Freezing is a fairly recent development in food preservation. Definitely not more than at least 100 years, the advent of electricity and home freezers. The Pasado was the method of preserving Green Chile)
The Green Chile Industry
Commercial operations utilize so much of the crop because they are too large to be dependent on such seasonal and temporary sources for their supply.  So, large commercial producers take up to 90 percent of the crop, roast, peel and freeze the peppers in 25 pound boxes.  It is this product that consumers are familiar with in restaurants and frozen food sections of their grocery stores.
Problems with Fresh Green Chile Storage
The commercial variety if prepared properly will satisfy very discriminating pallets.  If you are not in New Mexico for the harvest and the roasting, you can still get the commercial frozen variety.  But there is a downside, and it has to do with the cost of transporting frozen products!
For comparison purposes, a bag of fresh New Mexico green chile can cost anywhere from $20 to $40 for the average person. Shipping to Chicago will cost 2.5 to 3.5 times the cost of the product.  Once roasted it will not stay shelf stable for more than 24 hours in ambient conditions.  So, you really have to like it (or need it) to be comfortable with the economics of this particular crop.
The Solution
The Chile Guy has long stated that the most economical and efficient way to store and preserve chile pods is in a dry format.
But if you have to have it, and some do, nothing else will do and that's where we come in.  We have the dry green chile in whole pods (Pasado), green chile powder, green chile flakes and frozen.  There is a lot to it, but in the end it is the plate you serve that will tell the difference and your commitment to authenticity and creativity.
Common Dishes Including New Mexico Green Chile
Many times we get asked about different dishes that incorporate green chiles. A few of the more popular ones that New Mexicans use green chile for include:
Chile Rellenos
This dish is basically a fried green chile stuffed with cheese. There are a number of ways to prepare chile rellenos, but they all include peeling the green chile, removing the seeds, stuffing them with cheese, preparing the batter, dipping the stuffed chile into the batter and frying them.
Green Chile Stew
A favorite of New Mexicans everywhere, green chile stew is perfect for the cooler fall and winter seasons. Like chile rellenos, the dish can be prepared in many different ways, but it most commonly includes green chile, chicken or pork and vegetables like tomatoes and onions.
Green Chile Enchiladas
Green chile enchiladas are absolutely a favorite for New Mexican families. Made with tortillas, cheese and green chile, it's a perfect choice for lunch or dinner! Add chicken to the dish for an extra hearty meal!
Every dish has the opportunity to be customized based on taste preferences, so you can make any recipe your own with a little modification! These are just the most common examples of the uses for Green Chile. We propose, you decide!
Order New Mexico Green Chile Today
Have you found the perfect recipe that includes New Mexico green chile? The Chile Guy carries Frozen Green Chile (Hatch), dry Green Chile Pasado and Green Chile Powder and Flakes.  Plus, our green chile is Kosher. Contact us to place your order today.  We will do our best to find a Chile Solution for your specific needs.