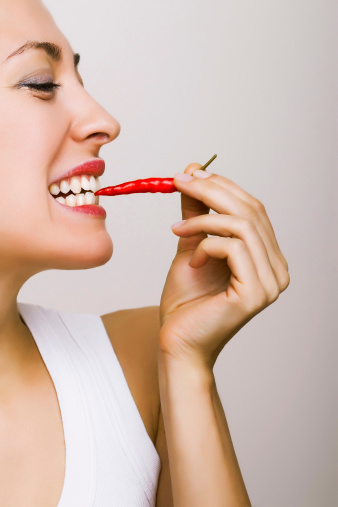 If you're a chile lover, you probably find people who don't adore spicy seasonings, sauces and salsas a mystery. How can someone not love the bite of a spicy enchilada? Or jalapeño poppers? Are spice-phobics serious when they order their huevos rancheros without green chile? They must be joking, right?
A recent study may answer all of these baffling (and muy importante) questions. The study confirms what The Chile Guy has known all along: that there are two types of people in this world, those who love spicy food, and those who don't!
Why Some People Like Spicy Food—And Why Some People Don't
You personality type may determine whether you like your food bland or spicy, according to research presented at the 2013 Institute of Food Technologists (IFT) Annual Meeting & Food Expo®. The study had 184 participants (nonsmokers) ages 18 to 45 who did not have any known conditions that would compromise their ability to taste.
Researchers used a test called the Arnett Inventory of Sensation Seeking (AISS), which tests for the personality trait of attention seeking, defined as desiring novel and intense stimulation. This personality trait is believed to contribute to the amount of risks we like to take in our lives. If you score high on the AISS test, it means you are more open to risks and new experiences.
Participants were given 25 micrometers of capsaicin, the compound that gives peppers their heat. Participants were then asked to rate how much they liked a spicy meal as the burn caused by capsaicin increased. Those who scored below the mean on the AISS test liked the meal less as the burn increased. Those who scored higher on the AISS test liked the meal more!
Researchers say that when the burn becomes more intense, people should like the meal less, but that's not the case with chile lovers! We actually enjoy the burn of spicy food, an enjoyment that reflects how we like to take risks and are open to new experiences. Your love for spicy food is correlated with your personality type!
Wholesale Bulk Spices for Sale!
If you're one of those personality types who loves spicy food, you and your customers will love the taste of quality wholesale bulk spices provided by The Chile Guy.The Chile Guy helps you obtain the best wholesale bulk spices at the best price. The Chile Guy at 800-869-9218 to order your chile today!