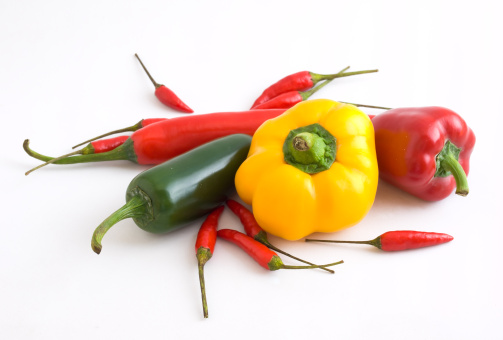 All chiles are not created equal. Each chile has its own unique flavor and heat that makes it different from the rest and perfect for one dish and not another.
Understanding the Scoville Rating System
The Scoville Rating System, invented by Wilbur Scoville in the 20th century, measures each chile's heat on a scale starting at zero. The heat rating was based on the average amount of sugar water it takes to neutralize the heat of the chile. The Scoville Rating System is the most widely accepted method of pepper heat measurement in the world. Basically, the higher the number, the hotter the chile.  For example:
Edible Chiles on the Scoville scale (Source: Wikipedia)
| | |
| --- | --- |
| Scoville rating | Type of pepper |
| 100,000–350,000 | Guntur Chilli, Habañero chili, Scotch Bonnet Pepper, Datil pepper, Rocoto, African Birdseye, Madame Jeanette, Jamaican Hot Pepper |
| 50,000–100,000 | Bird's eye chili/Thai Pepper/Indian Pepper, Malagueta Pepper, Chiltepin Pepper, Pequin Pepper |
| 30,000–50,000 | Cayenne Pepper, Ají pepper, Tabasco pepper, Cumari pepper (Capsicum Chinese) |
| 10,000–23,000 | Serrano Pepper |
| 2,500–8,000 | Jalapeño Pepper, Guajillo pepper, New Mexican varieties of Anaheim pepper, Paprika |
| 500–2,500 | Anaheim pepper, Poblano Pepper, Rocotillo Pepper, Peppadew |
| 100–500 | Pimento, Peperoncini |
| 0 | No significant heat, Bell pepper |
Although this is the best measure of heat out there, the ratings can vary based on the laboratory it was tested in and can be difficult to taste the difference without an expertise in chile. That's where The Chile Guy comes in!
Contact The Chile Guy
For the hottest Grade A chiles on the market, The Chile Guy can help you find exactly what you're looking for in the quantity you need. We have a large selection of powder, flakes and pods that can be shipped nationally and internationally, including PO boxes. Take a look at our shopping cart and contact us with questions!