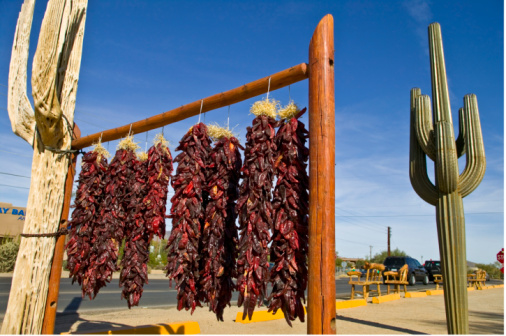 What do people love about chile at Christmas? While we typically associate turkey, ham and stuffing as typical Christmas fare, oftentimes, that kind of cooking can taste a bit bland for those who love spicy food.
Thankfully, The Chile Guy has everything you and your customers need to add spice to holiday dishes. Our home state, New Mexico, has more than 400 years of Christmas food traditions that involve the use of chile—here are a few peppers that truly add spice to holiday favorites.
Spiced Walnuts – Chipotle Chile Powder
Did you know that chipotle peppers are actually jalapeño peppers that ripen and dry on the vine before they are picked? The smoky flavor of chipotle is perfect for hot spiced walnuts—who wouldn't like to warm up with some of those on a cold holiday night? At The Chile Guy, you can buy chipotle pepper flakes and chipotle chile peppers.
Mexican Spiced Hot Chocolate – Ancho Chile Powder
Ancho chile is used in a variety of dishes including mole sauce recipes, always a good addition to any meal! However, we recommend using it in Mexican spiced hot chocolate, a Christmas favorite. At The Chile Guy, you can order Ancho powder, dried whole pods and flakes.  Ask about Mexican Chocolate.  Or better yet, ask about Mexican Chocolate from Oaxaca!   In Mexico the primary way Chocolate is ingested is by drinking and Mexican Chocolate is the most famous because it is made with a variety of spices including Cinnamon and nuts.  (A note of caution, don't drink it if you are allergic to nuts and peanuts.)
Red Chile Sauce – New Mexico Chile Powder
Chile sauce can be a spicy alternative to gravy on mashed potatoes or a different way to dress the turkey. To make red chile sauce, you need…red chile, of course! The Chile Guy sells a variety of bulk red chile pods and powders, but we recommend New Mexico red chile pods to get that authentic Southwest flavor.
Of course, the easiest way to make New Mexico red chili sauce is to use fresh dried pods.  Rehydrate them, blend them with the water in which they were boiled and rehydrated, reheat to a slow boil and it is "Reddy!"  Spice with salt, garlic or Mexican Oregano or leave it alone.  You can also add pork or Chicos.  There are many variations.  Put it on your holiday Menudo or Posole and that is about as "authentic" as it gets anywhere!
Located in Bernalillo, New Mexico (near Albuquerque), The Chile Guy supplies bulk chile to restaurants, distributors and manufacturing companies. To learn how our chile can enhance your sales, contact us at 800-869-9218 or visit our bulk orders page!