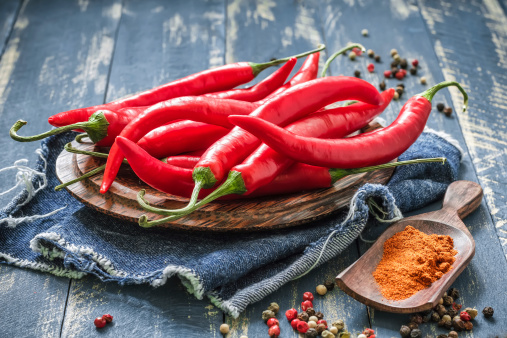 The holiday season is a time that families and friends gather to celebrate their life and friendship over a meal. During this time of the year, consumers will be interested in making or purchasing dishes that add flavor to their holiday celebrations. Some of the more common types of chile and spices used in these holiday dishes include:
Green Chiles. Used in dishes, like tamales.
Anaheim Chiles(New Mexico Dried Red). Used in several traditional dishes, as a garnishment for tamale and the sauce of choice for Posole the most unique and abundant holiday dish in New Mexico.
Guajillo Chiles. Used like New Mexico a little sweeter and hotter than New Mexico.
Ancho Chiles. Most widely used general pepper.  It is used in everything from "chili dogs to moles or menudo.
Negro Pasilla. This chile is commonly used in mole.
Mexican Oregano. This spice can be used in any type of traditional Mexican dish.
These are just a few types of chile and spices that will enhance the flavor of your menu item or your bulk product.
Selecting the Right Chile
You might not have a lot of time to scour the proper areas for the right type of chile at the right price. That's where The Chile Guy comes in. We do all the leg work for you so you can perfect your dish or product. The Chile Guy does research and to bring you the best chile products from around the world at a cost-effective price. We can even ship to wherever you are in the world.
Purchase Chile Online
All of the chile products we offer are listed in our online shopping cart. Whether you are interested in 10 or 10,000 pounds of bulk dried chile, we can accommodate your request. For special orders or unusual quantities, please contact us to setup arrangements.
Call The Chile Guy at 1-866-768-7865 to order your dried bulk chile products today!