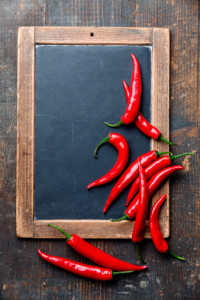 500 varieties of chile peppers exist in the world, and about 50 varieties are used commercially. After salt, chile is the second most popular spice in the world! Chile peppers are popular because they are economical  to add to food packs a ton of flavor and nutrients.  Not to mention Heat, Capsaicin, the Heat!  Who put the hot in hot-n-tot?
With so much chile consumed in the United States, you may be eating chile in your meals without even realizing it! Some interesting facts about chile:
All of those variety of peppers feed billions of people worldwide. In fact, 1 out of 4 people across the planet eat chiles every single day!
Chiles are fruits, not vegetables. They are also relatives to tomatoes, potatoes and eggplants, all of which belong to the nightshade family. The Founding Fathers of the United States grew chile. Thomas Jefferson and George Washington both grew chile on their Virginia plantations.
The spicy ingredient in chile is capsaicin, which is an oil. Drinking water doesn't dilute the spiciness of a chile pepper—it just distributes it to more parts of the mouth.
If you bite into a spicy chile pepper and want to cool down the heat, try drinking milk instead of water. Casein is a protein found in all dairy products containing lactic acid, including cheese, milk chocolate and ice cream.  Casein breaks down the bond between pain receptors in your mouth and the capsaicin in chile peppers. Hence the expression the next morning after eating chile: "Come on Ice Cream!"
The average American eats about 16 pounds of chile peppers per year!
Chile makes food safer by reducing harmful bacteria. Chile is also used in medicine. Compounds from chiles is used in topical pain patches and over-the-counter medications like Sudafed and Robitussin.
Chiles are healthy. A rich source of vitamins A and C, chile peppers contain more vitamin A than carrots and up to six times more vitamin C that oranges!
Chile isn't just used in food, it's also used to create beauty treatments. Chiles form the base for many massage oils and anti-cellulite creams, and some women swear by it for anti-aging masks.  It is also the most commonly used color element in make-up, think Rouge and Lipstick!
Eating chile could help you sleep better. According to one study by the University of Tazmania, folks who ate food rich in chiles fell asleep easier, woke better and had more energy during the day.
Hot chile peppers like cayenne can actually help burn calories by triggering a thermodynamic burn in the body, which speeds up metabolism.
From the incredible heat of the ghost chile pepper to the sweet spice of the ancho pepper, chile peppers come in a variety of complex flavors, and The Chile Guy has them all. Search through our kitchen to order samples of our chile, or go straight to our bulk orders to order for your business!
Questions about bulk chile by The Chile Guy? Contact us nationally at 800-867-4251 or in Bernallilo, New Mexico at 505-869-9218.