It's no secret that the chile pepper is star ingredient in most Mexican dishes. With more than 40 peppers available commercially, you may be wondering which peppers are essential to creating restaurant-worthy salsas, sauces and seasonings. Here are the top 5 peppers essential to Mexican cuisine, as told by The Chile Guy!
Habanero
Habaneros are among the hottest peppers, ranking b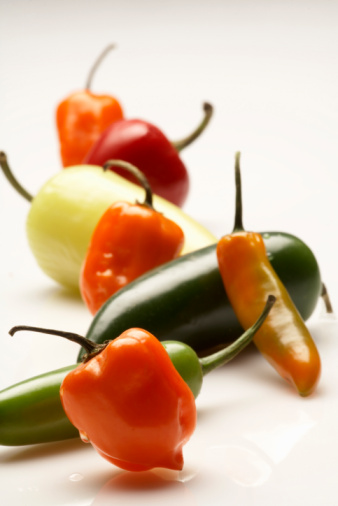 etween 100,000 to 300,000 Scoville units. Commercially, habanero peppers are most often found in salsas and bottled hot sauces.
Chipotle
You know a pepper is important when an entire chain of Mexican restaurants is named after it. Chipotle peppers bring a smoky flavor to any dish. That could be because they are actually jalapeño peppers that have been smoked!
Jalapeño
Jalapeno peppers are probably the most common chile pepper used commercially in the U.S. Roughly 2-4 inches in length, jalapeños are typically picked while still green, although they can be ripened to a red color. They're quite hot, too, with a heat index of 2,500-10,000 Scoville units.
Serrano
Serrano peppers are commonly used in salsas, sauces and relishes. Serranos are a smaller version of the jalepeno. We think serrano peppers taste amazing in a spicy pico de gallo!
Poblano
Mole sauce is made with poblano peppers and chocolate. Poblanos are also used to make chili rellenos. Poblanos can be mild or hot—either way, this dark green pepper has a complex earthy flavor that emerges when roasted.
Mexican cooking incorporates spice into most dishes, from the menudo you eat as an appetizer to the hot chocolate you eat for dessert. Interestingly, South American natives did not eat many peppers prior to colonization. It wasn't until after the Spanish colonized South American that spicy peppers became popular in South American cuisine.
Commercial Bulk Mexican Spices
Searching for Mexican spices at wholesale prices? The Chile Guy has more than 100 different chile varieties hand selected to guarantee you receive only the best in heat, color, flavor and purity. To purchase any of the above chile in bulk or see our entire selection, contact us or see a list of our bulk spices and herbs.