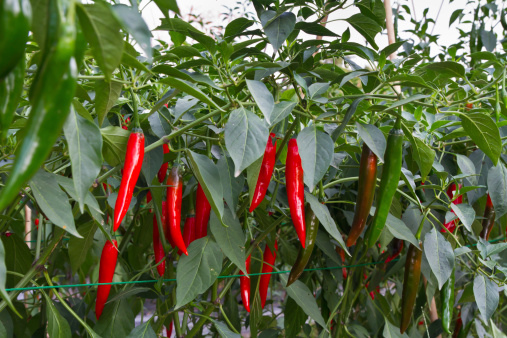 Declining crops and increasing prices—it's a familiar story farmers have faced ever since humans started planting crops. In our global economy, climate is only one factor: the price of today's chile crop is influenced by transportation costs, processing and more.
#1 Location
About 90% of chile sold in U.S. markets is grown overseas, often in emerging countries. Typically, the agricultural costs are lower in these countries, but even if  U.S. has a good trade relationship with the country as it does with Mexico a number of factors have an effect on the price of chile and all agricultural products.  For example, at this particular time the Mexican peso is down versus the dollar.  This would tend to make Chile less expensive to U.S. importers. If it were a normal year for production and crop size, that is. Because the weather (see item 5) has not cooperated and U.S. dollars buy more than they did a year ago, there is much less to buy. Low supply = higher prices.
#2 Energy
It takes a lot of fuel to transport a chile crop from an international farm to consumers in the U.S., and the energy cost of transporting chile affects the ultimate price of the product. A common example: when gas prices go up, so does the cost of freight transportation. This affects the price of chile to consumers.  And while the price of oil has been dropped for the last year cost of transportation for delivery has not.
#3 Processing
When a chile crop is grown, it isn't immediately ready to be sold. Think of a chile crop as a raw material that still needs to be processed before it goes to market. After it's grown overseas, U.S. Customs, the FDA and the U.S. Department of Agriculture must approve the chile brought into the U.S. Then it must be boxed, packaged and transported for sterilization if required, all adding to the cost of chile.
#4 Energy…Again.
Once you get the chile within the U.S. and process it, there is another energy cost to get it to the consumer. Often, the chile first goes to a wholesaler, then to a commercial food manufacturer who turns it into the salsa and sauces, and finally to the finished product on the shelves of your grocery store.  UPS (United Parcel Service) the U.S., Post Office and Federal Express have all raised their delivery rates or changed their algorithms for computing cost of delivering a package.  Many distributors experience the "more for you" when shipping chile.  It is not uncommon for the shipper to make more profit on the product being shipped than the seller of the product, particularly if it is a small amount.
#5 Climate
Like all crops, climate is a major factor affecting the price of chile. In 2013, Mexico's chile crop was affected by drought, something that usually affects prices if supplies are radically reduced.  . However, the crop was devastated when, right before harvest, Mexico was hit by monsoon rains and Pacific Typhoons just at the time of harvest. Crops could not be harvested due to the mud in the fields in Oaxaca, Michoacán and other chile growing regions .  Low production + Low harvest = a chile shortage.  Chile Farmers, like all farmers, will tell you the "worst thing for any crop is a shortage of water. The second worst thing is too much water."
A recent article in the Albuquerque Journal said that New Mexico is preparing for a drought. Our state relies on seasonal snowstorms to build our water supply, but it's been dry for weeks and the future forecast looks the same. What impact this will have on next year's chile crop remains to be seen.  In fact, the entire southwestern region is experiencing a drought with California being hit the hardest.  Water allocation and rationing has already started in the Golden State.
California may not play a overpowering role in Chile production, but as a barometer for agricultural production in the western U.S. it is pretty good place to start looking at the impact of a severe drought on variety of agricultural products.  Texas, New Mexico, Arizona and California share a border with Mexico and from where I sit it is only 254 miles away.  This is a quote on the current economic and agricultural situation in Mexico. With the value of the peso falling and drought conditions prevalent, some crops look to cause some major disruptions:
Veracruz, Mexico: A Hike in Onion and Potato Prices
The National Information System and Market System Integration (SNIIM) recognized that the price of some crops, such as potatoes and white onions, increased by up to 84 percent in the first few
days of January 2014.
The price of white onions, 7.60 pesos in December 2013, increased by 84 percent in January
2014 and is currently 14 pesos per kilo wholesale.
Alberto Ramos, manager of the SNIIM, stressed that these increases are due to problems collecting crops in various parts of the country.
Specialists believe that the price changes are due to seasonal factors. They think that the prices
increased because of the weather problems in the region where the crops are and not because
of this year's new taxes.
The Bank of Mexico stated that this year's country's inflation would be high in the first months
because of the new taxes on various products. Among other products, consumers will have to
spend more money on basic food products, scrap products and gas.
Source: http://www.elsiglodetorreon.com.mx/
Publication date: 1/20/2014
At the Chile Guy we try to find the highest quality for the lowest prices and provide it to markets all over the world.  These are some of the factors affecting the cost of Chile we are watching for you.
For more information about bulk chile in New Mexico, contact The Chile Guy or place your order today!