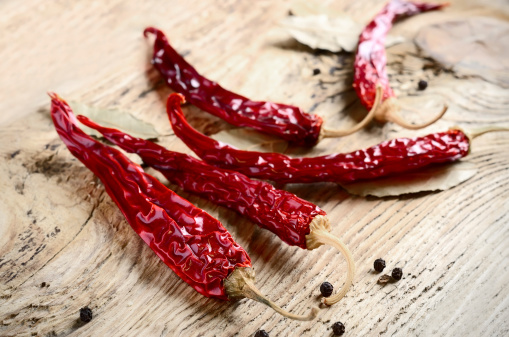 The history of chile pepper cultivation begins near the dawn of human culture. Evidence for the origin of chile peppers is still up for debate, although some researchers believe that the chile pepper originated in the area we now know as Bolivia.
Archeological evidence shows that humankind began to domesticate the fruit more than 6,000 years ago throughout South America. That predates the invention of pottery in some areas!
How Chile Peppers Spread Throughout the World
As with all aspects of American history, chile pepper cultivation changed when Christopher Columbus and his crew arrived in the Caribbean. Columbus named them peppers, because they tasted similar to Old World black peppers, and brought them back to Spain after his second voyage to the Indies in 1493.
Peppers were introduced to the rest of Europe, and then to Asia, throughout the 1500s. It is believed that chile peppers made their way East via Portuguese trade routes from the New World, followed by Arabic trade routes to the East. The chile peppers' popularity in Asian countries took off, and today, chile peppers are an important part of South Asian cuisine.
Chile peppers also launched a revolution in cuisine in Europe, especially among the Spanish, who loved the spicy, savory flavors chile peppers offered. Interestingly, chile peppers did not become a major part of Mexican cuisine until after the Spanish colonized northern Mexico and the southwestern United States!  The Chile Guy is located in New Mexico and it is not an accident the fame of the Vaunted New Mexico Red and Green Chile inspired the formation of this enterprise!
Experimenting with the Taste & Pungency of Chile
Once chile peppers were brought to Spain, monks began to experiment with the spiciness—or pungency—of chile peppers and quickly discovered that they had potential as a substitute for black pepper, which was an expensive commodity at the time.
Today, there are more than 400 variety of chile peppers with different levels of heat and flavor. About 40-50 of these are produced commercially—and many of them are available at The Chile Guy in all the formats (whole chile, powder and flakes) for your specific application in the amount you need.
Bulk Chile Shipped from Albuquerque, New Mexico
Searching for bulk spices wholesale? The Chile Guy provides bulk spices from regions throughout the world, including Mexican chile, Thai chile and Jamaican chile. For more information about bulk chile in New Mexico, contact The Chile Guy or place your order today!