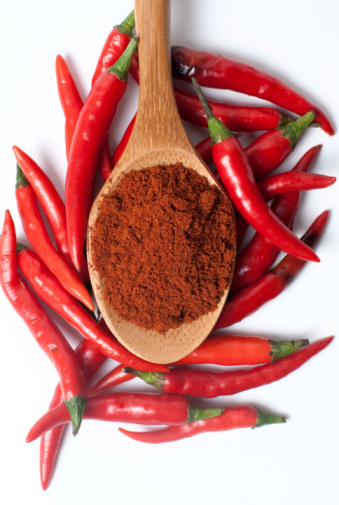 Once you've tasted fresh, flavorful chile peppers, you won't accept anything less. Of course, sometimes we have to make do with what we have in front of us, including eating store-bought sauces and salsas that don't have a whole lot of taste. Bland readymade salsas and sauces don't have to ruin your next meal, however. For every problem, there is a solution, and The Chile Guy's got 'em!
The Scenario & The Solution!
Life is just like salsa: when it's bland, we need to add a little spice! Try these tips and tricks by The Chile Guy to add a little spice to any of your store-bought foods.
Scenario #1: Bland Store-Bought Salsa
We all know what it feels like to buy convenience store salsa. You're craving savory, spicy salsa and in an act of desperation, buy one of the big brands, the last available on the shelf. But when we pop open the top and dip our chip, we're disappointed with the bland taste.
The Solution: Hot Habanero Flakes
How could this scenario have been prevented? The Chile Guy spikes his salsa with Habenero flakes. Mild or hot, just add a few flakes into your store-bought salsa and Presto! You have super hot salsa with your own signature on it.
Scenario #2: Cheap Barbecue Sauce
You wanted the vinegary taste of vinegar mixed with a little bit of heat, but your cheap barbecue sauce is watery and doesn't have a whole lot of flavor. How can you impress the guests at your backyard barbecue?
The Solution: Chipotle Powder
Add some chipotle powder to your barbecue sauce. The smoke jalapeño will increase the heat and flavor of your sauce in a way that's 10 times better than liquid smoke.
BONUS Secret Recipe: It's hot, it's tasty and when the beer is flowing I get so many requests for my "secret" barbecue sauce recipe I can't keep up with them. Since you're a faithful reader of The Chile Guy blog, here it is: Add a little sugar and beer/wine or some other favorite beverage and your customers, er uh, guests will not be able to stop eating ribs, chicken or anything else you have a mind to put in front of them!
Scenario #3: Grilled Cheese Magnifique!
Your boring old grilled cheese fells lifeless. The Chile Guy loves a grilled cheese sandwich. It is even better with some fresh roasted New Mexico Green Chile.
The Solution: New Mexico Roasted Green Chile or…Just About Any Chile
The roasting season is starting now and the hotter the better. Just add as much as you want to your sandwich and enjoy. Add a little chicken and now you are feasting instead of snacking! No New Mexico green chile for your grilled cheese? Poor baby!   Add those Habanero Flakes or Chipotle Flakes and you will not be disappointed. The lactic acid in the cheese will cut the heat and leave the flavor of the zesty Habanero or the smoky chipotle. Who says grilled cheese is "boring"? Not these!
Wholesale Bulk Chile Powder & Flakes
The Chile Guy is proud to carry 100% pure, natural chile. Our bulk wholesale spices that are processed into powders and flakes are pure, meaning that we don't blend any of our powders and flakes with other ingredients unless specified by you. We are located in Bernalillo, New Mexico. Contact us to order your bulk wholesale spices today!